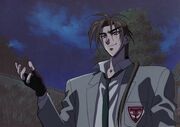 Shōgo Asagi (浅黄 笙悟 Asagi Shōgo) is a water master who appears in the motion picture in place of Kakyō, who had not made a formal appearance in the manga during the movie's production. A smart-aleck high school student, he appears to fight for the Dragons of Earth solely to cause trouble, and is actually the first one of either group to contact Kamui after his arrival, telling him through telepathy that they are fighting for the future of the world. He meets his end in the film during his battle with Karen in the subway, when Karen causes a massive explosion that causes them both to be crushed by debris.
Shōgo Asagi also appears in Tsubasa, first in the Hansin Republic, then in Piffle World as an employee of Tomoyo Daidōji.
Ad blocker interference detected!
Wikia is a free-to-use site that makes money from advertising. We have a modified experience for viewers using ad blockers

Wikia is not accessible if you've made further modifications. Remove the custom ad blocker rule(s) and the page will load as expected.